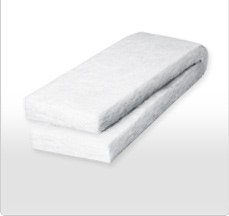 Quite simply, it's the smart thing to do for the environment and our customers.
Better for the Environment
JM Formaldehyde-free™ insulation uses an innovative new acrylic binder that eliminates binder-related formaldehyde emissions during manufacturing, and after installation will not off-gas formaldehyde inside your home. And our insulation contains 20% post-consumer recycled glass.
Better Energy and Sound Efficiency
Johns Manville insulation is distributed in Australia by AGM Insulations. JM Formaldehyde-free™ insulation provides the same high-quality thermal and acoustical properties as conventional JM fiber glass. As a result, the beneficial effects of our formaldehyde-free insulation are also felt in the home, conserving enough energy annually to fuel North America's electric consumption for an entire month.
Better Moisture Control
JM Formaldehyde-free™ insulation is naturally mold and mildew resistant, and our new MR-Faced product has a built-in Smart vapor retarder for further protection in high humidity areas.